Honorable John Dan Kemp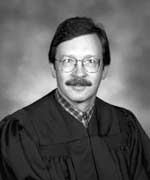 Division One is presided over by Judge John Dan Kemp. Judge Kemp began serving as Circuit Judge in 1987. Under the Administrative Plan approved by the Arkansas Supreme Court, Division One has jurisdiction of all of the Criminal Docket in Cleburne, Independence and Stone Counties. Division One has jurisdiction of the Drug Court.
Court Times and Contacts
2008 Circuit Court - 16th Judicial District Division One
John Dan Kemp - Circuit Judge

107 West Main, Suite G
Mountain View, AR 72560
(870) 269-8989
Facsimile: (870) 269-8964
Dates marked with an asterisk(*) are Drug Court dates starting at 9:30 a.m. in Cleburne County, 1:30 p.m. in Independence County and 4:30 p.m. in Stone County. Jury trial dates are underlined. The other court dates are non-jury days.
Jury trials start at 9:00 A.M. Non-jury dates start at 9:30 A.M.
To set a case for hearing, write the case coordinator at least 15 days in advance of the court date, and copy the respective clerk and opposing counsel or party. Your letter should include your best estimate of trial or hearing time.
Trial Court Assistant: Ruth Bonds
Stone County Courthouse
107 West Main, Suite G
Mountain View, AR 72560
(870) 269-8989
Facsimile: (870) 269-8964
Court Reporter: Jill Barber
P.O. Box 1172
Heber Springs, AR 72543
(501) 362-8726