Welcome to Fulton County Arkansas
Fulton County was formed December 21, 1842, from territory taken from Izard County, and is named for William S. Fulton, the last Governor of the Arkansas Territory. The county seat is Salem,Arkansas. Landscape of Fulton County is rugged and mountainous. The well-known Mammoth Spring, one of the largest single-outlet springs in North America, is located in the county. Many recreational activities can be found around this area. Lake Norfork and Horseshoe Bend also provide water sports. Nearly half of the land area of the county is in pastureland. Beef cattle, poultry farming, and feed production are leading agricultural activities. The Fulton County courthouse, built in 1890, was restored in 1974 and has become a landmark in Salem. In May of each year, Fulton County stages an Old Timer Sailor and Marine reunion in Mammoth Spring, which unites people from all over the country. Also in May the Fulton County Homecoming is hosted in Salem. It has a parade, 5 K run/walk, Squirt race and a tortoise race.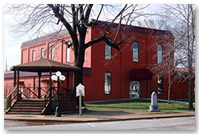 News and Announcements | View All
There are currently no announcements.
Resources
Alerts
What's in Fulton County?